CSS Pocket Reference (Engels)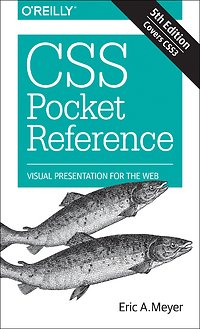 Engelstalig | Paperback
Verkooppositie: #13581
Verwachte levertijd ongeveer 8 werkdagen .
Samenvatting
When you're working with CSS and need an answer now, this concise yet comprehensive quick reference provides the essential information you need. Revised and updated for CSS3, this fifth edition is ideal for intermediate to advanced web designers and developers.
You'll find a short introduction to the key concepts of CSS and alphabetical summaries of CSS selectors and properties. You'll...
Toon volledige samenvatting
Inhoudsopgave
Preface

1. Basic Concepts
-Adding Styles to HTML
-Rule Structure
-At-rules
-Comments
-Style Precedence
-Element Classification
-Element Display Roles
-Basic Visual Layout
-Floating
-Positioning
-Flexible Box Layout
-Grid Layout
-Table Layout

2. Values
-Keywords
-Color Values
-Number Values
-Percentage Values
-Length Values
-Fraction Values
-URIs
-Angles
-Times
-Frequencies
-Strings
-Identifiers
-Attribute Values
-Calculation Values
-Variable Values

3. Selectors and Queries
-Selectors
-Structural Pseudo-Classes
-The Negation Pseudo-Class
-Interaction Pseudo-Classes
-Pseudo-Elements
-Media Queries
-Feature Queries


4. Property References
-Inheritance and Animation
-Value Syntax Conventions
-Universal Values
-Properties

Index
Specificaties
Bindwijze:
Paperback, 204 blz.